I was looking for a quote from a horror film or story. Something cute to go with a post I was writing and accidentally came across Sumerian demon Pazuzu's quote from The Exorcist, "What a wonderful day for an exorcism."
I paused for a moment…can we exorcise the demon possessing the White House in 2020? What about the demons in Congress? The Media? Qanon and the rest of the conspiracists? Can we exorcise the memories of the first three quarters of 2020? Will the last quarter be any better and what about 2021? Remember the first Mad Max movie? It took place in 2021.
The quote didn't actually come from Pazuzu but from fourteen-year-old Linda Blair playing the possessed twelve-year-old Reagan MacNeil. The demon had invaded Reagan and the little devil was having a conversation with Fathers Karras and Merrin who were attempting to exorcise him from the young girl.
The quote was quite possibly the nicest thing Pazuzu voiced through Reagan in the movie. If my Nannie had been around, she would have asked, "Do you eat with that mouth? And where did a fourteen year old learn language like that? You go break me off a switch. I'm gonna switch dem legs!"
Nannie, I taught middle school. I've heard worse and they all seemed to be possessed by Sumerian demons.
Pazuzu was holding on to his possession of Reagan as tenaciously as the coronavirus and most of his comments were meant to shock.…especially coming from the mouth of a supposed twelve-year-old.  And who could forget the throwing up of green slime with the force of a fire hose? Reminded me of some of our politicians TV advertisements.
None of this has anything to do with the point I might be making…if I knew what that point might be.
I share on my Facebook page what I call "Don's Fun Facts".  Most are shared from either a humorous or historical standpoint, or both.  There is no rhyme or reason, just some thought that hits me.  Just something positive and informative.
I fell into "Don's Fun Facts" like the quicksand I worried so much about as a child. In the Fifties and Sixties TV world, it seemed people died all the time by falling in to quicksand. Did you know there were two "I'm gonna die" quicksand scenes in the Sixties TV program Lost in Space? Really worried about that space quicksand but it seems quicksand was not the problem I thought it might be as a child.
Back to the point, "Don's Fun Facts" is an attempt to lighten my little part of a world that has become as dark as the storm clouds settling over Sigourney Weaver's high rise in Ghostbusters.  Her character, Dana, was possessed by a fake Mesopotamian demon, Zuul.  What is there about the Fertile Crescent that breeds demons?
I'm not sure what demon has possessed 2020…maybe all of them.
Again, back to the point. This is one of my two favorite times of the year, what I call Halloweenber. In its honor, I have begun to share Halloween Fun Facts intermixed with facts about the horror genre that helps drive it.
I like the horror genre, books or movies, anytime of the year.  From reading Poe and Stroker to watching Jamie lee Curtis scream in Halloween and The Fog, I like a chill or two. If I can combine horror with a mystery story, I am in a reader's heaven of sorts.  I just don't want the tale to be too real.  I want space aliens, monsters, vampires, werewolves, zombies, or immortal killers wearing a William Shatner mask. I don't want the real thing.
I'm much more comfortable with make believe monsters than I am with monsters who might actually walk the earth. An alien clown named Pennywise who goes about tempting children into rain sewers I'm okay with. It's not real…scary but not real.
Real serial killers dressing up like clowns, say John Wayne Gacy, I'm not okay with. John Wayne Gacy murdering thirty-three victims is too real…just like 2020 is too real.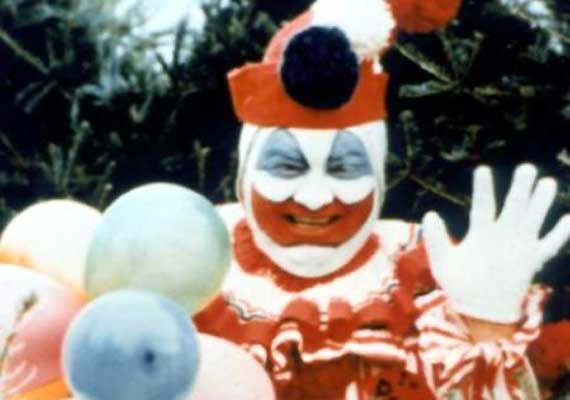 If 2020 were a serial killer it would be dressed like "The Killer Clown" John Wayne Gacy. I guess 2020 is a serial killer of sorts carrying a ventilator while dressed in "clown" scrubs with red face paint resembling blood drying around its fang-filled mouth.
I didn't know at the time but the beginning chapters of Stephen King's The Stand were too real as a deadly influenza bioweapon is released. Now we have the very real coronavirus.  Obviously, Corvid-19 is not as deadly as Captain Trips but it makes me pause to wonder…influenza season is here. I read Michael Crichton's along the same lines, The Andromeda Strain.  Saw the movie too. "Quit it!" I'm scaring myself…good horror is not real, good horror is not real, good horror is not real! If I close my eyes the monster will go away.
No, I'd rather watch Godzilla destroy a major world city on TV or Bela Lugosi bare his fangs and fade to black than watch a movie or read a book about a mega volcano in the heartland or an asteroid kerplunking into the middle of the Pacific like a bowling ball dropped into a bowl of chocolate pudding. Too real.
There is something about the idea of an exorcism that keeps coming back to me like chickens coming home to roost…killer chickens with fangs and razor sharp talons. The orange rooster yells, "Go for the eyes! If they can't see the truth…."
Maybe we could get all the Catholic priests in the world to carry out a world-wide exorcism of the demons of 2020. Teachers, we could do it virtually, right? "Ala Kazam, begone! Especially you, you orange faced incubus!"
Vodun priests and priestesses can cast a spells on the little imp? Pins in dolls? No, according to a former baseball player I coached from Haiti, "It's a bunch of movie hoodoo." If true Moise, "Why were there chicken bones in your bat bag? Forget to clean up after your last trip to KFC? I think not" Besides, I've seen The Serpent and the Rainbow and The Skeleton Key.
I think an exorcism should be the order of the day…just not this day.  We should wait a month unless you are doing mail in or absentee voting. We don't need priests or priestesses of any religion to cast a vote.  We can attempt to cast out our demons at the ballot box. Show up and vote.  January 20 would be "a wonderful day for an exorcism."
***
Don Miller's author's page is found at https://www.amazon.com/Don-Miller/e/B018IT38GM?fbclid=IwAR35xJvzdxZiEkwOZ9X-zSJaHJPWe_2zlp_F52tyGagyOUCajeDIa9TNwFo
Vodun, also spelled Voodoo, Voudou, Vodou , or French Vaudou, is a religion practiced in Haiti that transported with slaves to the Southern United States, especially Louisiana. The spelling voodoo, once very common, is now generally avoided by Haitian practitioners and scholars when referring to the Haitian religion. Wikipedia
Incidentally, the term Hoodoo used by my Haitian baseball player is a traditional African-American spirituality created by enslaved African-Americans in the New World. It is linked to Vodun, or Vodou, but is different. Hoodoo is very prevalent in Lowcountry South Carolina and coastal Georgia.
The "head spinning" image is from The Exorcist and taken from Pinterest.