…the Sears catalog, "serves as a mirror of our times, recording for future historians today's desires, habits, customs, and mode of living." The 1943 Sears News Graphic
Someone shared a memory and I fell into a rabbit hole. Later, I was looking at Amazon offerings on Cyber-Monday when the memory arrived-The Sears Wishbook.
When I poured over the offerings from the Sears Catalog, I never thought of it as a historical source. I was a child and perused it as most children did, wishing. Wishing I had the gazillion piece "Fort Apache" set, the Lionel train set, a JC Higgins' 100 Bicycle, the shotgun being hawked by Ted Williams, just to name a few. Somewhere along my pathway, I did own a Lionel train set, a hand-me-down from an older cousin, and a JC Higgins double barrel. Wish I knew what happened to them.
The arrival of the Sears Christmas "Wishbook" was a highly anticipated event. Not just by children. I remember my mother's excitement and I had to wait in line for the opportunity to leaf through its five hundred or so pages.
The first Wishbook dropped from the presses in 1933 and according to History.com "Items featured in the first catalogue included the popular Miss Pigtails doll, Lionel electric train sets, a Mickey Mouse watch, boxes of chocolate and even live singing canaries." It had not changed much in the Fifties and Sixties, but I don't remember singing canaries.
The catalogue would arrive in our mailboxes in late August or early September and soon became as much a holiday tradition as "chestnuts roasting on an open fire" with warm, colorful Christmas scenes decorating the cover and the pages within. Thank you, RFD1 for the hours I flipped through the pages, defining, and refining my Christmas choices.
The Sears Catalog was a boom for those of us who lived in rural and isolated areas. It was a boom for R. W. Sears, a railroad agent who bought a shipment of watches to sell as a side business. He was later joined by Alvah C. Roebuck, a watchmaker, and in 1893 Sears and Roebuck Mail Order Company was born. The business quickly expanded to selling more than watches and the first Sears Mail Order Catalogue was mailed out in the late 1890s.
The Sears and Roebuck mail order business quickly took off. The Sears catalogue contained hundreds of pages of merchandise by the late 1890s. Rural Americans, two-thirds of the population at that time, could now purchase hundreds of different items—shoes, women's garments, including unmentionables, horse drawn wagons, and for a time horseless carriages, fishing tackle, furniture, china plate sets, musical instruments, firearms, and bicycles—all by mail.
You could order anything from a Sears Catalog. Anything would include a kit home called the Sears cottage. Between 1908 and 1940, seventy-five thousand kit homes were sold. They were well designed, well made, and economical. Many of those homes still exist today.
How much did a Sears kit house cost? Comprising more than 10,000 pieces and materials, the kits retailed for between $600 and $6,000 and were available in over two-hundred styles. That would be about $10,000 to $100,000 in today's money. Need financing, Sears did that too.
Need furniture, appliances, and tools to finish the project? Sears had it all. Window dressings, stoves to cook on, dining rooms to eat in, Sears was your "one stop" for all your shopping needs and with "quality" too.
With the population moving to the cities, Sears built its first brick and mortar store in 1925. Located by design in working-class areas, Sears was one of the first department stores to cater to working men. Durability over fashion, quality tools, and hardware were mainstays.
Not that women were ignored. "Fashionable" clothing, "exotic" perfumes, kitchen appliances, vacuum cleaners, and sewing machines for those who wanted to sew their own and look fashionable doing it. Key up a mental vision of June Cleaver cleaning house in a dress featuring Peter Pan collars, bouffant petticoats, and high heels.
Sears was responsible for industry firsts. Kenmore sewing machines appeared in 1913 and expanded over the years to include vacuum cleaners, refrigerators, and air conditioners, followed by other quality appliances. Sears sold its first Craftsman tools in 1927 expanding to include power tools, lawn mowers, and garden tractors. At the time these were quality tools that carried lifetime guarantees.
All-State Insurance was a Sears creation as was the Discovery Card. Within a decade over twenty million Americans had a Discovery Card.
I've drifted away from the Sears Catalogue and into a history lesson.
The Sears Catalogue and The Wishbook don't exist any longer with its glossy pages of colorful pictures. In the early Nineties it became a casualty of the internet age and big box stores. As the country roads of my youth became a casualty of the interstate systems and urban sprawl, The Wishbook ceased to exist anywhere but online and in my mind.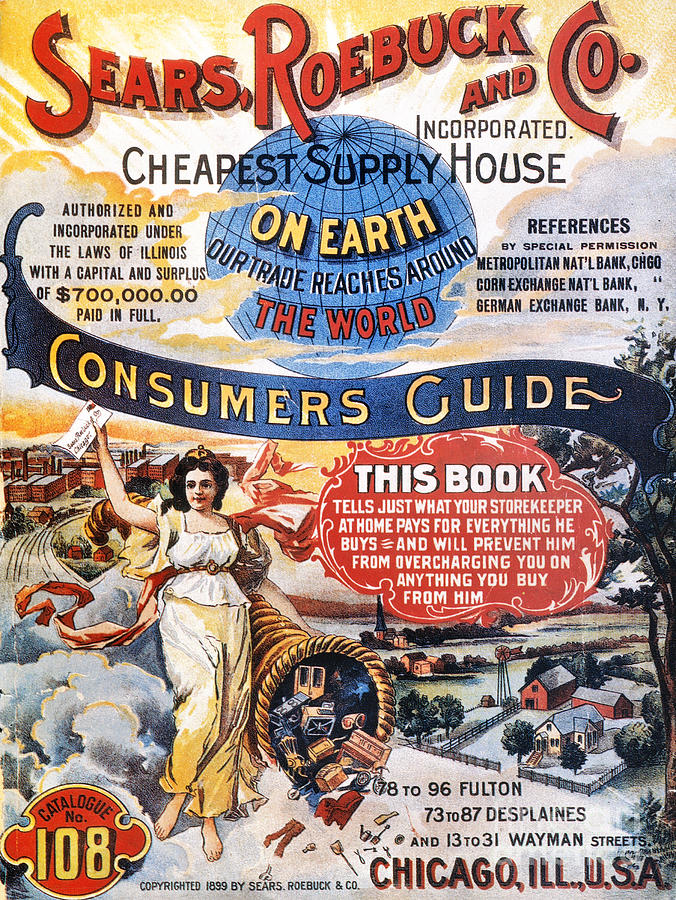 Sears, itself, became a casualty of its own making. Others emulated it and did it better. Big box stores like Walmart and K Mart sold more for less…and with less quality. Sears followed suit but couldn't keep up, closing many stores and laying off its workers.
Sears sold itself to K Mart, Kenmore to Amazon, and Craftsman to Stanley Black and Decker. Finally, it filed for bankruptcy in late 2018. One more icon of the past gone…at least, in its original form.2
According to author Christine Brae, "Time waits for no one" but the little boy in me still remembers the glorious day when the Sears Wishbook arrived. I can close my eyes and see the Christmas scenes with gayly clad boys and girls. I can see the toys I could only dream about and remember some that found their way under the Christmas tree to be opened on Christmas morning.
The Wishbook harkens to those days in my life when my biggest worry was if "I had been a good little boy." Christmas carols, Mother's Ambrosia, Nannie's quilted stockings filled with fruit, nuts, and butter mints. My father's bloody knuckles from grating coconut for coconut cake. Christmas was about family gatherings on Christmas Eve.
Early on Christmas morning, whispering to my little brother as we waited in anxious anticipation for our parents to wake up and take us to see what was under the tree. Hoping there was no bag of coal or bundle of switches. Peeking around the corner attempting to see what might be there before scurrying back to bed when we heard our parents' bedroom door open.
It is about The Wishbook and the warm memories it triggered.
***
RFD1–
Rural Free Delivery (RFD) was a program of the United States Postal Service that began in the late 19th century to deliver mail directly to rural destinations. Until the late 19th century, residents of rural areas had to travel to a post office to pick up their mail or to pay for delivery by a private carrier. RFD post service allowed the distribution of national newspapers and magazines and was responsible for millions of dollars of sales in merchandise to customers through mail-order deliveries in rural areas.
2 Sears is in its final days. There are approximately twenty-three Sears stores still open in the United States, as of November 11, 2021. Of these, six are set to permanently close soon. There is still a Sears presence online that sells familiar Sears products like Kenmore appliances or Craftsman tools.
My author's page is found at https://www.amazon.com/Don-Miller/e/B018IT38GM?fbclid=IwAR3IdxEjFJbXm_hKGSr97HEFWc02TNzkZReQYi33Ls4gox_V5KOabXN-Yvg