When the news came across my feed I felt as if I had lost part of my childhood.  Henry Aaron was dead at eight-six.  I knew his days were numbered at that age but still.  I had just seen pictures of him taking the Covid-19 vaccine to help other African Americans make the decision to do so.  Henry "Hank" Aaron was never just a baseball player. His legacy is much more than the game he played.
He was always larger than his historical moment.  The moment he hit Al Dowling's pitch into the left field bullpen on April 8, 1974.  It was an early birthday present to me.  The day after Aaron's name went into the record books as the "Homerun King" I turned twenty-four.  Since that date others have had their names etched in above his, but no one hit more home runs in the pre-steroid, pre-juiced up ball, pitcher's era.  To me he will always be the "Homerun King"…and much more.
He was a quiet man…soft-spoken, a man who let his glove and bat do his talking.   He never liked the moniker "Hammerin' Hank." His mother named him Henry, that was good enough for him.  Aaron never doubted his own ability but never felt the need to toot his own horn.  He was a team player on some pretty bad teams.
He hit 24 or more home runs every year from 1955 through 1973, a pitcher's era, and he is one of only two players to hit 30 or more home runs in a season at least fifteen times. He also earned three Gold Gloves during that period.  In 1999, The Sporting News ranked Aaron fifth on its list of the "100 Greatest Baseball Players".  Considering the man, they ranked him too low.  He was so much more to a white kid who so much wanted to be a baseball star.
He was the baseball definition of grace.  There was an elegance just walking into the batter's box or jogging around the bases.  Loping after a fly ball.  He had a beautiful, artistic swing, whether a swing and a miss or a ball roped into the left field bleachers.  It was about the finish.  Art frozen on a photograph.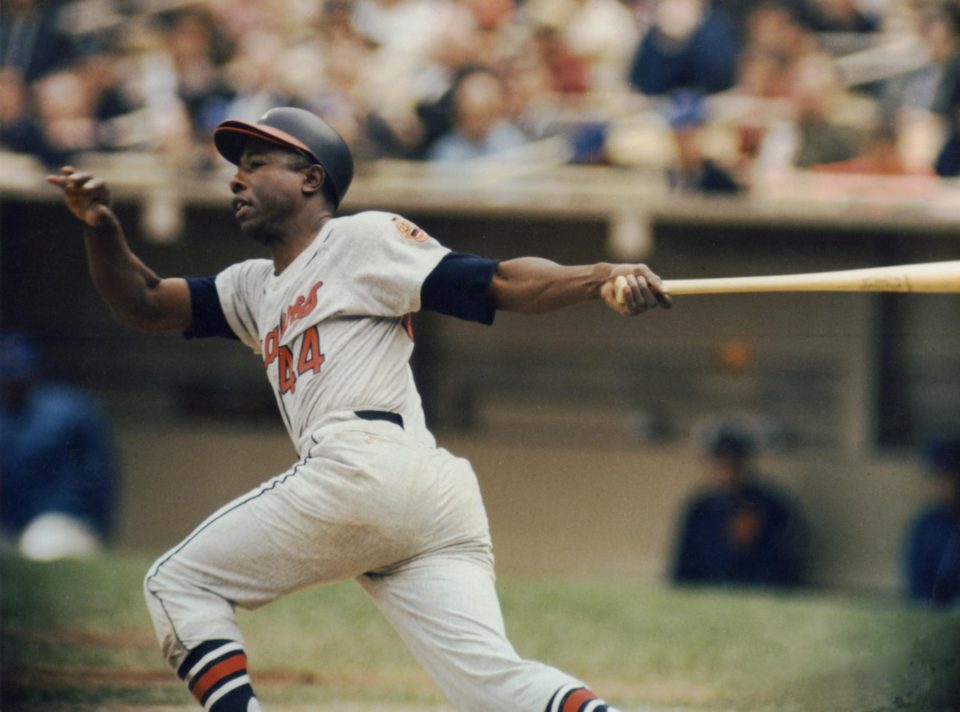 My brother put it this way, "Mr. Atlanta Brave has passed away. As a lifelong Brave fan, it is a sad day. Been a sad month or so with Phil Niekro and Don Sutton passing before him. Hammerin' Hank will always be the true Home Run champ, not the juiced-up cheaters who currently are ahead of him. I can see him now with batting helmet in hand, slipping it on his head, taking three practice swings before stepping in the batter's box. It was a thing of beauty." I agree.
I remember when the Braves moved from far away Milwaukee to not quite so far away Atlanta for the 1966 season.  We finally had a team. I was an instant Braves fan…but it was hard.  Every season began with hopes and dreams, hopes and dreams that were usually crushed by the All-Star break.  But we had Hank, "Hammerin' Hank", Henry Aaron.
My father took my brother and I to a Sunday double header that first year.  I was stoked.  Not only would I get to see Hank but Willie Mays' San Francisco Giants.  What a day.  To see two of my childhood idols.  Hammerin' Hank versus the Say Hey Kid.  Baseball nirvana.  Aaron didn't see the field that day and Mays only pinch hit late in the second game.  Instead, I got to see Atlanta pitcher Tony Cloninger hit two grand slam homeruns…I say that as if I have swallowed something unsavory.
When Vin Scully, the great baseball announcer, retired I wrote about Vin and his call of Aaron's historic homerun. As Aaron rounded the bases, Scully said into his microphone, "What a marvelous moment for baseball. What a marvelous moment for Atlanta and the state of Georgia. What a marvelous moment for the country and the world. A black man is getting a standing ovation in the Deep South for breaking a record of an all-time baseball idol. And it is a great moment for all of us, and particularly for Henry Aaron."
As I listened and cried a bit, Vin's words troubled me because I have seen an increase in the words and actions that motivated his descriptions.  Aaron was subjected to a road littered with racial landmines as he moved closer and closer to Ruth's hallowed record.  Racial abuse and death threats followed him around those bases but somehow, he managed to stay above it all.  As a man he was much greater than the stage he played on.
"I had many, many, many death threats. I couldn't open letters for a long time, because they all had to be opened by either the FBI or somebody. I couldn't open letters. I had to be escorted. In fact, just recently I went to a funeral, Calvin Wardlaw, who was the detective — the policeman — with me for two years, passed away just recently. He and I got to be bosom buddies really, but that was the hardest part. I wasn't able to enjoy — you know." A real shame, "I wasn't able to enjoy…"
I wish I had taken the time to have written Mr. Aaron.  From an old white Southerner.  An apology of sorts just to let him know how much his exploits meant to me…meant to most of us, I think.  I would remind him of the joy I received living through him.  He was a towering hero on and off the field.  Unassuming, quiet but forever inspiring.
There are many pictures of Henry Aaron, but I have a favorite.  It is not a picture of my idol wearing a Milwaukee or Atlanta uniform, hitting or fielding.  It is of a young Henry Aaron standing in front of a train car.  He is about to embark into his future…his destiny.  He would step onto that train and head to Indianapolis to play shortstop for the Negro League "Clowns" for two hundred dollars a month. 
I feel I HAVE lost a part of my childhood.  So many have transitioned over the last year.  Tonight, I will gaze at the night sky hoping for the flash of light.  Scientifically I know it is a meteor burning up in the atmosphere.  In my heart I will know it is Henry Aaron hitting another one out of the park. 
*** 
The image of Henry Aaron and Willie Mays is from https://www.talkingchop.com/2020/6/10/21285787/this-day-in-braves-history-hank-aaron-passes-willie-mays-on-all-time-home-run-list
Don Miller's authors page may be found at https://www.amazon.com/Don-Miller/e/B018IT38GM?fbclid=IwAR0b6oFbr9QqtEYvWbOkHCcfv23IpoKgaxuRZd-nLM-fM1dmnch_2SGSfSY